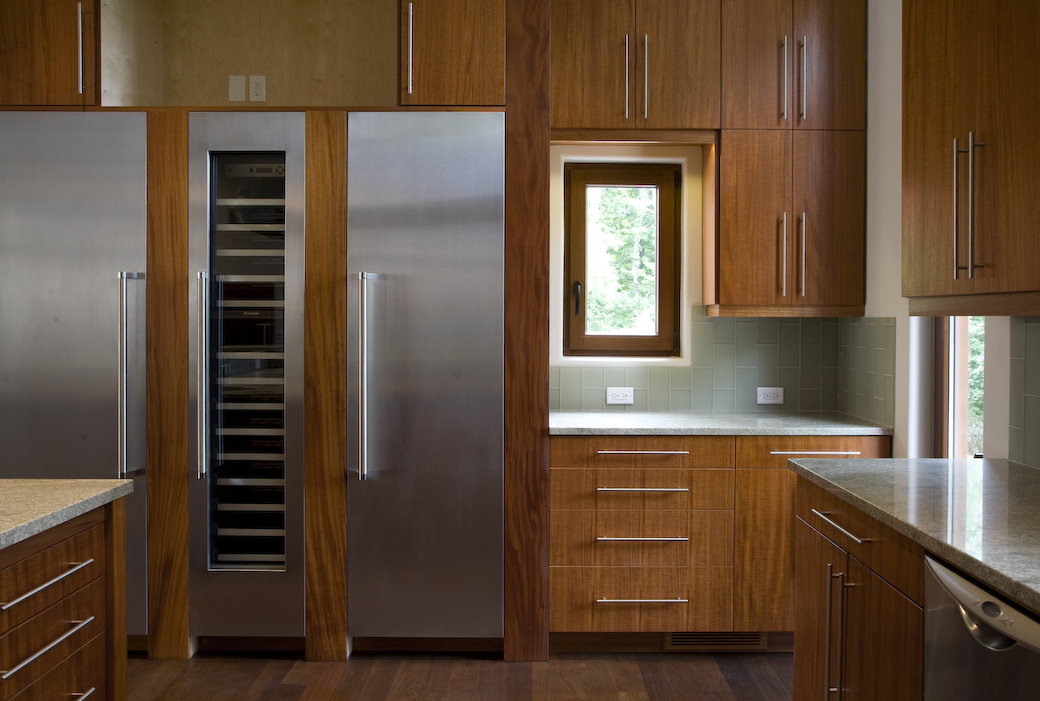 BANCROFT
A secluded, dramatically sloping 3-acre site in Forest Hills deserved a house which embraced the site, yet provided the home owners with the comfort and luxury that are the hallmarks of the gated community where it resides.
The house is reached via a curving driveway that climbs a steep, wooded incline before leveling out into a motor court that is bounded by the residence on one side and a detached two story garage / guest house on the other. A generously scaled stair leads the visitor to the front door, which enters into a stunning central hall tower featuring 28-foot high ceilings, reclaimed wood beams and a floating staircase / balcony. Anchored to the south side of the tower is the Living / Entertaining space, while beyond lies the secluded Master Suite wing, connected to the main house via a bridge under which passes the collected rainwater from the rear of the house. On the north side, a spacious Kitchen and Dining area leads to a double-height activity room. The lower level contains a state of the art Home Theater and Wine Cellar while an upper level perched above the Kitchen / Dining wing contains three Guest Bedroom Suites.
The program is wrapped in a warm, refined palette of stucco, glass, tropical woods, natural stone and cast in place concrete that combine to present a highly contemporary look that embraces and enhances its natural setting. Outside the rear of the house, a 40-foot long infinity-edge pool nestled into the hillside anchors a Dining Terrace, Outdoor Kitchen and a custom built fire pit, all of which is integrated into lush plantings that creates a variety of outdoor experiences.